Second generation (left) and first generation (right) airline-checkable flyaways.
DCI's first-generation

airline-checkable flyaway

is a Patriot 1.1m aluminum 6-segment military "manpack" antenna. This flyaway has worked well, however we wanted to build something more rugged and self-contained. The result is our

second-generationairline flyaway, a modified Norsat SecureLink. We stripped this system down to just the reflector and base, removing the small 20w BUC, LNA, and other electronics used for Norsat's IP link. With a carbon fiber reflector rated at 600 watts by manufacture Cobham Defense in the UK, this little flyaway is capable of so much more than the original 10mbps it was first used for. Our modification includes installing TWO high power amplifiers- a a

MCL MT3400,

and the latest in TWT technology, a 32lb linearized 400w

MT2400.– in a custom-made collapsible bracket that both acts as a ballast for the antenna and raises the amplifiers off the ground. Both of these outdoor amplifiers have internal block upconverters (BUCs).

Custom bracket holding two HPA's and a 1:1 redundancy switch (left), a 3 path HD mux in a single rack in a SUV

Where has the first-generation flyaway traveled?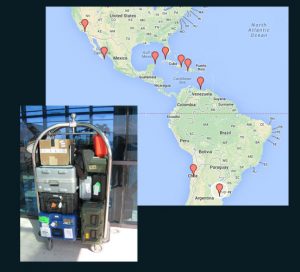 A redundant 4-path H.264 HD flyaway that fits on a baggage cart? Yes, DCI can do that!
Its not just the flyaway antenna that is special however. Ten-channel ASI muxes, multiple MPEG 4 HD encoders, DVB-S2 modulators- all redundant, allow the flyaway to transmit more data in less bandwidth than ever before possible. For example,

in a 18MHz slot using 8PSK, we can easily carry eight paths of SD and HD in H.264 Or in a typical 6MHz slot, we can do two SD or one high-quality HD in MPEG-4. With the combination of DVB-S2's increase in throughput and MPEG-4 increase in efficiency, space segment costs are lower and easier to book. We also carry a

small 16×16 HD/SD router,

a

Phabrix HD/SD analyzer,

compact SDI quad viewer, and all the assorted cables, tools, and spare parts needed for successful self-contained transmission from anywhere in the world.
As the oldest flyaway operator in continuous operation in the US, DCI has a long history of innovation in the field. Our first flyaway, a 1.8m Advent Mantis, provided the Department of Defense pool during Desert Storm from Kuwait City, a flyaway voice comms system decades before commercial equipment was available, covering the Japanese embassy hostage crisis in Peru, and the list goes on.
DCI's first flyaway setup on the roof of the now-destroyed Hotel Montana in Haiti, covering the 1991 coup: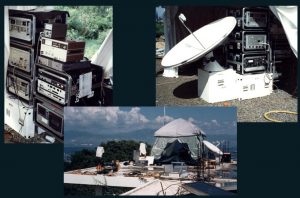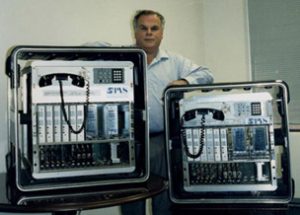 DCI designed and built this comms system totally in house, allowing our first flyaway to carry phone calls along with the video uplink. This was decades before comms systems became commercially available.