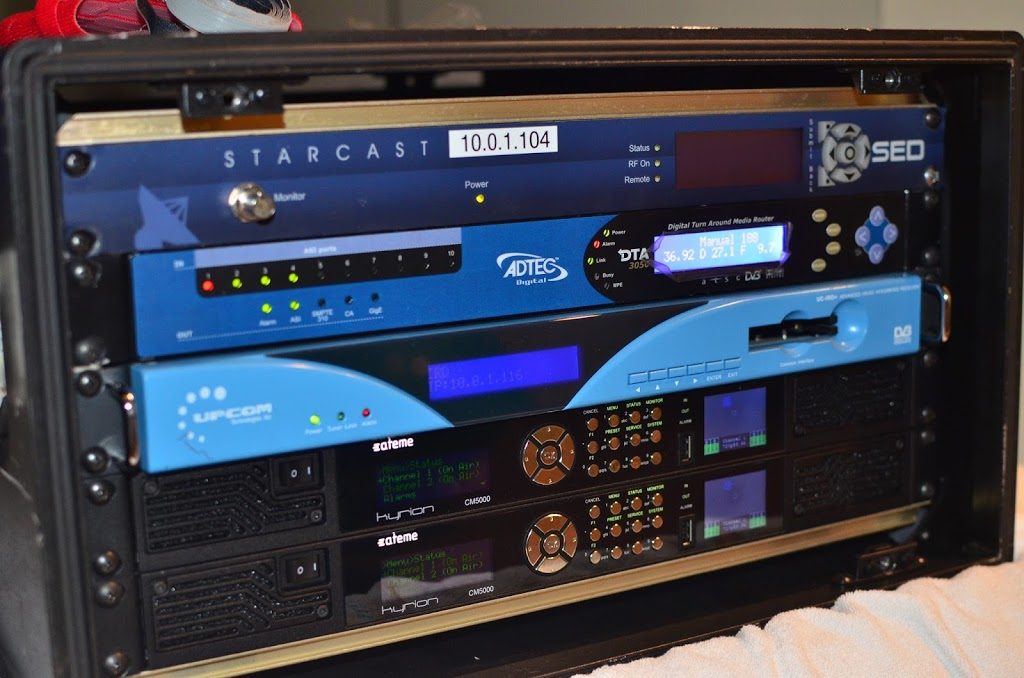 DCI recently added new
Ateme
hardware to our encoder and decoder inventory. Three
DR5000
receivers were added to our
teleport
, expanding DCI's capacity to decode ultra low-latency feeds and high quality encoding such as
10-bit
4:2:2 and higher-order
modulation
up to 32APSK.
On the transmission side, DCI added two CM5000 "Dual Kyron" encoders for on-demand use in the teleport and field. Our CM5000's feature TWO encoders inside the same box, allowing us to have the most portable 4-path flyaway available in the United States. The two dual encoders are part of a package which will be broadcasting the pool feeds of the American Embassy opening in Havana on Friday.
These new acquisitions compliment DCI's previous investment in Ateme hardware, which power our ESPN-certified "HD1" uplink truck with high quality H.264 4:2:2 video and 16-channel audio.
Our Ateme hardware is completely software-driven, with enough hardware power for future expansion. In fact, both the CM5000 and DR5000 have the processing power necessary for the new H.265 High Efficiency Video Codec (HEVC) and DCI will be adding H.265 capability sometime next year with a new firmware release from Ateme.
As one of the oldest independent teleport and SNG operators in the United States, DCI remains committed to staying on the cutting edge of video compression technology. Contact us to see how we can put this powerful new hardware to use for your next event.
Two Dual Kyron's in a flyaway rack for the American Embassy opening in Havana. Also in the case is a Starcast DVB-S2 L band modulator, Adtec multiplexer, and UpCom IRD.