Inauguration Day is the single most busy day for broadcasters in DC, and it was no exception this time.
Our teleport had dozens of liveshots coming though our facility via fiber and satellite.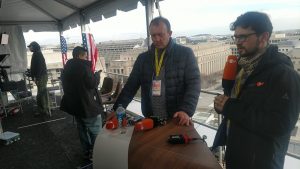 Our flyaway antenna was setup on the roof of the Newseum doing a single-hop to Germany on Hispasat to provide backhaul for a German network's coverage of the event.  Like on election day, the flyaway was operated remotely from DCI using remote desktop control.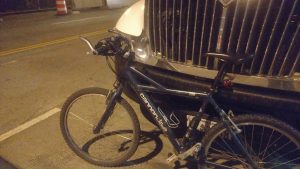 Our HD1 satellite truck was parked at the Convention Center doing 3 paths for network coverage of the event.  Transportation on Inauguration Day is always a challenge, so bicycle was the mode of transport between the truck and hotel on the other side of the mall.
Unlike other years, when everything was over we had another job right away.  The Convention Center cleared at midnight and it took almost an hour to drive a half mile across town, with all the traffic and road barriers being cleaned up.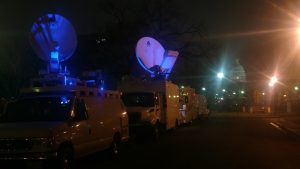 We had two trucks working at the Women's March, which had so many people we could hardly move around.  One truck was doing 1080p for a high profile webcast of the event, and the other was providing coverage for Eurovision.
Its another successful inauguration in the books for DCI!