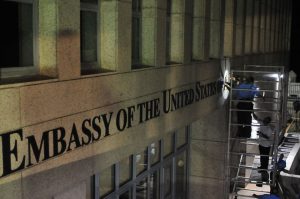 Workers add the "Embassy of the United States of America" signage to the front of the building in the early morning before the opening ceremony.
When the United States Department Of State reopened their embassy in Havana, there was a lot of interest from broadcasters around the world. Many setup live positions at the balconies surrounding the building, however with the limited space on the embassy grounds, the State Department came to Washington's premiere satellite company for two shared uplink systems that would be made available to broadcasters.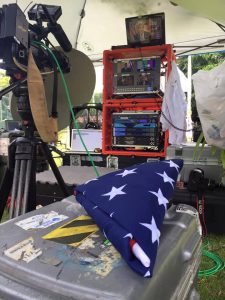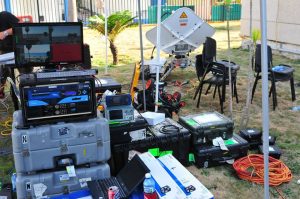 The State Department chartered a flight from Baltimore to Havana and we loaded two flyaway systems along with all the government's equipment for the opening ceremony. Each dish was setup for 4 HD paths, for a total of 8 paths coming out of Havana. Like usual, we used muxes, DVB-S2, and H.264 encoding.
The State Department worked with both Eurovision and Associated Press to make 4 live shot positions (2 each) available to media worldwide.
During the ceremony, two of those paths carried the official switched feed of the program and a cuts camera, which was made available and carried live on many outlets worldwide. DCI Teleport downlinked the official feeds for the State Department and fed them live via fiber for further distribution and webcasting.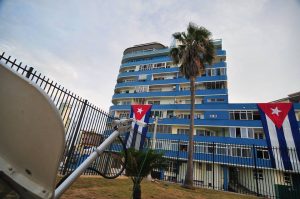 Some might say the Cubans "out-flagged" us. Most of the US networks had live positions on these balconies and dishes on the roof. Some used microwave to shoot from the media riser at the embassy.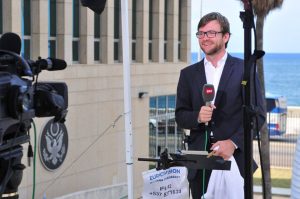 Live shot going to Europe on the EBU network via the DCI dish.
Crowd of Cubans watching the event across the street, and a camera platform for Cuban TV.
Secretary Kerry applauds as a cheering crowd looks on. The 3 men facing the color guard are the US Marines who lowered the flag the last time, in 1961. They vowed they would return to raise it.
The second dish was setup at the Ambassador's residence, which served as a feed point and interview spot where 2 paths were used by the State Department to feed B roll of various diplomatic events around Havana, and the other 2 paths were used by the US networks to feed video from their sit-down interviews with Secretary Kerry.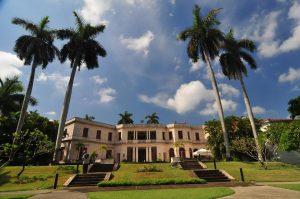 Ambassador's Residence in Havana (known as Chief of Mission when the embassy was an Interest Section)
After a busy day for both uplinks, we packed up and headed back to DC the next day, another flawless field transmission in the books.
Contact DCI to see how we can put our expertise to work for your challenging satellite needs!

More photos of this event can be seen here.