DCI
recently branched out into the world of sports transmission when we received ESPN technical qualification during a visit to Bristol, CT with our
HD1 satellite truck
! While the radio frequency (RF) section is essentially the same, there are a lot of differences between doing news and backhauling sports.
DCI
is proud to have a truck that meets both the demands of sports backhaul, as well as major news events.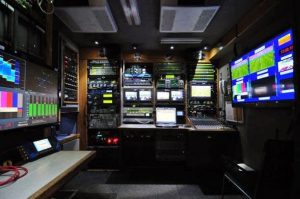 Transmission paths: Covering a large news story for an organization like AP or EBU may require multiple satellite paths, sometimes 5 or more. Multiplexers are commonly used. Most sports broadcasts only require 1 path.
Audio: News is typically 2 channels, sporting events can have up to 16!
Chroma: With all the motion in a sporting event, they are often broadcast with higher-quality compression techniques, such as 4:2:2 and 10-bit sampling.
Bitrate: Again with lots of motion, high bitrates are a must. This lends itself to larger transmitters and higher gain antennas that may be impractical for some news events where a compact SNG van may be the only way to park.
Monitoring: Being able to monitor all 16 channels of audio, and multiple points along the transmission path is a must for trucks wanting to work for the largest sports channels. Simultaneous multi-point monitoring the the quickest way to isolate where a potential problem is. DCI uses a 10-channel Miranda multi-viewer to accomplish this, it can display several video sources on one large monitor. In a sports transmission, it would be used to monitor the primary and backup inbound program, a locally decoded stream (pre uplink) a return feed off the satellite, and the network's final product via a DirecTV system. ESPN also requires additional monitoring equipment not necessarily found on news trucks, such as ASI stream monitoring (to monitor the quality of the MPEG stream from the encoder) and also SDI eye pattern analysis, to determine the quality of the serial digital signal coming into the truck.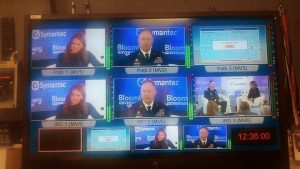 The multi-viewer is also handy for important news events, here the system is fully monitoring a 3-path interview with NSA Director Keith Alexander, all on one screen. Our Miranda multi-view system allows preset screen layouts to be quickly recalled for different kinds of events. A single path sporting event with 8 audio channels would have a totally different layout, with fewer but larger panels, and more audio meters.
Comms: News requires multiple phone lines, typically 2 per path for IFB and intercom and the audio interfaces to go with them. A sports backhaul only requires a simple stand-alone intercom to connect with the production truck. Some trucks that service only sports backhauls are not even equipped to do a news live shot.
Four reporters from 4 different channels all need to hear their home anchors (IFB), and the producer needs to talk to the camera operators. This is level of comms is foreign territory for a sports-only backhaul truck!
Redundancy: Our HD1 sat truck has 6 encoders that are all available for use with the understanding that if a producer wants to use all 6 paths, if one fails there will not be a backup for it. The fact that there are 5 other paths typically means that doing 6 is not "mission critical". If failure becomes a concern, some extra encoders can be brought, maybe 2 spares for 6 live. But it would be very uncommon to have a full 6 backups for the 6 live paths. But in sports, there is always one backup for each transmission path. Since most sports backhauls are only 1 path, most trucks that do sports have 2 encoders, and they are always exactly matching pairs down to the firmware that runs them to enable the fastest switchover in the event of a problem. For multiple independant news liveshots, matching encoders are not necessary.
Matching HD encoders for a sports broadcast.
Self-Sufficiency: Covering a news event, especially while using a flyaway or at a natural disaster, the uplink engineer must be self-sufficient. Each camera that comes into the truck must be checked for quality, the operation of the generator, electrical loading for lights, HVAC, cabling, communications… all must be handled by the engineer. Often things are happening at a quick pace as a story develops, at a breaking story there is pressure to get a signal up immediately after arrival. For sports, the pace is usually a little slower, as the events are pre-planned and should allow ample setup and testing time. At a sporting event, the uplink truck is often the last piece in a chain where dozens of people are in charge of different areas of a show. A large production trailer takes care of everything except the physical transmission of the program to the broadcasters. While the uplink engineer should be mindful of issues such as an over-exposed camera or clipping audio coming into the truck, these problems are usually addressed by other people quickly, whose only job is to adjust the cameras, or handle audio.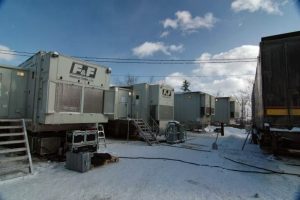 Four 53′ Double Expando production trucks cover the World Cup Biathlon in Fort Kent, Maine. While the crews of these trucks pulled 15 miles of camera cables throughout the course, the uplink only needed about 50 feet, and that was provided by the production truck, and power was pulled by the electrician/generator operator. None of this massive setup was a worry of the uplink engineer, who only had to send one signal to Europe and figure out how not to freeze when walking from the crew shuttle to the truck.
The exact opposite in Haiti after the earthquake, where EVERYTHING was the uplink engineer's problem! There were no electricians to balance the power load, no generator tech to keep the engine running, no grips to run cables…
DCI's ESPN single path / 16 channel transmission certification means we are rated to broadcast events watched by millions of people with the required monitoring and backup for such a high-profile event. We can bring this same level of quality-assured transmission to any sporting event, from major leagues down to small college games! With extensive news experience around the world and now high-level sports certification, DCI is a well-rounded company able to tackle any kind of transmission requirement, anywhere. Contact DCI to see how we can put out experience to work for you in 2014.